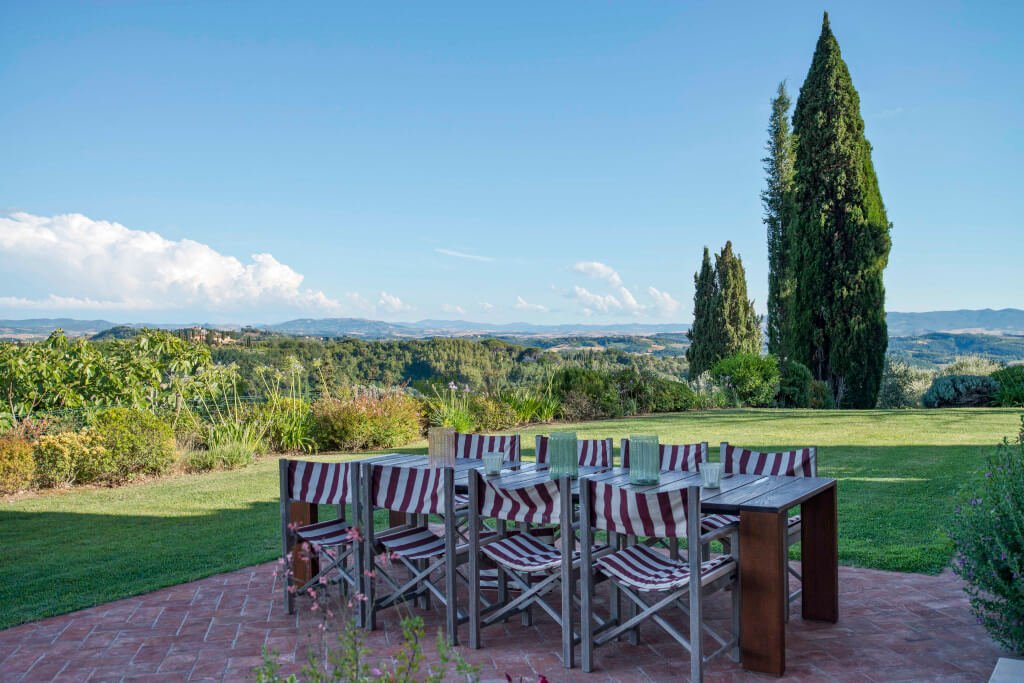 The Villa del Cuculo is located in the heart of the Tuscan countryside, a few kilometers from the ancient medieval village of Palaia in the province of Pisa. The building enjoys a spectacular panoramic view (360 °) with a private olive grove of about 10 hectares where excellent organic olive oil is produced.
In the heart of Tuscany
A breathtaking view and the 10-hectare private olive grove (with its own production of organic olive oil) make the atmosphere of the villa unique, arousing strong emotions and indelible memories in anyone who wants to stay there.
The place guarantees absolute privacy and therefore it is not surprising if, walking in the surrounding woods, you might come across pleasant encounters with the local fauna and flora characterized by native animal species such as deer, nightingale, hoopoe and not least the cuckoo from which the house took its name.
.
Palaia: medieval village in Tuscany
Seen from the garden, view of the lovely, medieval village in Tuscany The most fascinating view from the villa, framed by cypress trees, is the direct view of the village of Palaia.
Despite absolute privacy, the domicile is only ten minutes walk from the medieval town of Etruscan origin. The refreshing authenticity of the historic village, where lively Italianità and constant, hustle and bustle prevail, gives an insight into everyday Mediterranean life. There are several small grocery stores, a pharmacy, a pizzeria, a hairdresser, two wellfrequented bars and four different but typical, lovely restaurants right in the village, two of them with a characteristic view.
The place is bordered by an old city wall and its archway, which gives it additional charm.
https://www.comune.palaia.pi.it/
Immersed in the beauty and tranquility of the Tuscan countryside, the villa is the ideal place to spend a time of relaxation and intimacy with family or in company with friends.
SEVERAL FAMOUS TUSCAN CULTURAL SITES AND FASCINATING DESTINATIONS:
PISA 48km – 38 min. by car (there is the nearest International Airport, called Galileo Galilei,)
FLORENCE 60km – 48 min. by car (International Airport Amerigo Vespucci Airport),
LIVORNO 45km – 50 min. by car (Naval Port – Ferry Boarding),
SAN GIMIGNANO 38 km – 47 min. by car,
VOLTERRA 41 km – 46 min. by car,
LUCCA 54km – 1h by car,
Seaside resorts (for example: Tirrenia – Pisa 55km – 50 min by car),
Golf course (Castelfalfi 18km – 24 min. by car),
Famous Wineries: Casanova la Spinetta (Terriciola 16km – 22 min.), Badia di Morrona (19km – 28 min.), Tenuta di Ghizzano (13km – 18 min.),
TRUFFLE (wide range of different truffle products including the purchase of black and white truffles and truffle tastings: Savini Tartufi in Montanelli, only 7km – 1 2min. by car),
OPENAIR CONCERTS in summer, for example with the internationally renowned tenor ANDREA BOCELLI who usually gives concerts in the splendid amphitheater built in his hometown LAJATICO (23km – 26 min., in July / August: annual performances, early registrations).